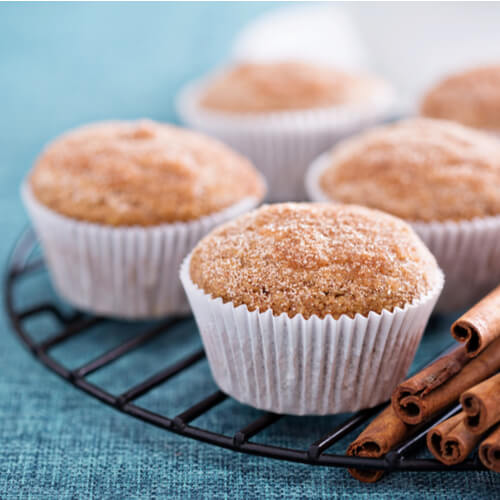 Ingredients:
2 cups flour
2 ½ teaspoons ground cinnamon
1 ½ teaspoons baking powder
½ teaspoon baking soda
½ teaspoon salt
2 large eggs, lightly beaten
¾ cup milk
¾ cup brown sugar, packed
2 teaspoons vanilla extract
½ cup unsalted butter, melted
2 cups peeled apples, finely chopped
¼ cup sugar
Instruction
Line a muffin tin with paper liners and preheat oven to 375 degrees F.
In a large bowl, whisk flour, cinnamon, baking powder, baking soda, and salt. Whisk eggs, milk, brown sugar, and vanilla in a medium bowl until smooth. Pour the milk mixture into the flour mixture; fold gently until just combined. Stir in butter until well incorporated. Fold in apples.
Scoop batter into each muffin cup. Sprinkle evenly with granulated sugar. Bake for 20 minutes, or until the muffins are golden brown. Let cool for about 20 minutes.