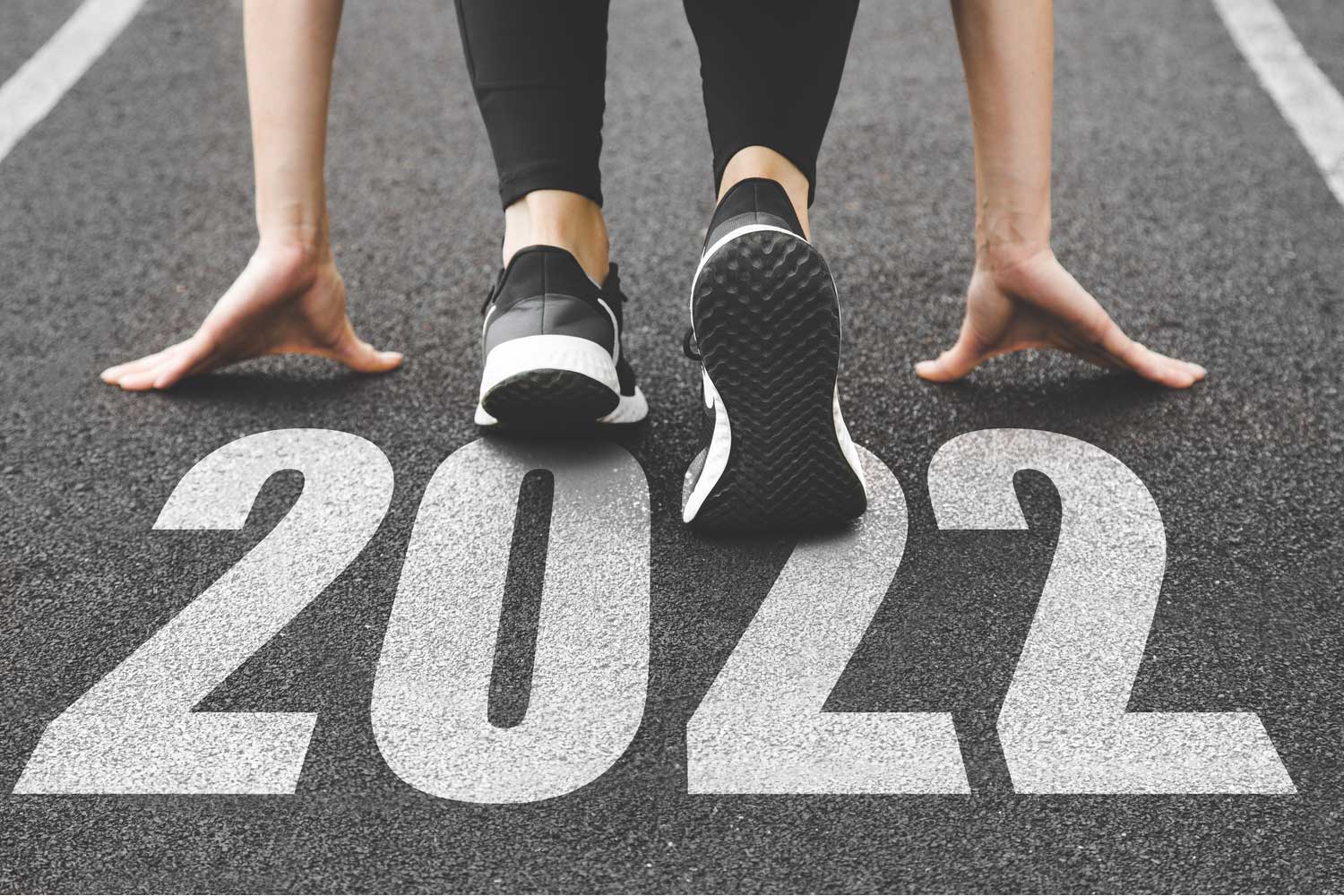 The start of a new year is a great time to reevaluate your health and fitness goals. Check out these 22 tips to help you stay healthy, motivated, and reach new heights in your fitness goals in 2022!
Find a gym buddy
When you have a friend at the gym, they help keep you accountable, motivated, and focused.

Sign up for a 5K
Sign up for a race month in advance to encourage yourself to stay active during the changing season.

Mix it up
Try switching up the time of day you usually workout.

Buy new clothes
Reinvigorate your quest for a long-term healthy lifestyle with a new wardrobe.

Consume good nutrition
Plan ahead with healthy meal preparation to stay dedicated and save time.

Combine efforts
Usually workout independently? Sign up for a class and get motivated by outworking those around you.

Change it up
By trying something new, your workouts don't get stale, and this helps create muscle confusion for a better workout.

Visit a dog park
Your furry four-legged friend needs exercise too! Get outside and breathe in the fresh air alongside your pup.

Accomplish your goals
Writing down your health and fitness goals can help you stay committed and accountable to your goals.

Try it for 10 minutes
That's right! Ten minutes is enough time to convince yourself to do more, and it's better than nothing.

Log your workouts
Recording your workouts can be motivating when you see the progress and how quickly your dedication can pay off.

Play a sport
Sign up to play basketball or hockey and make your workout effortless (and a little competitive!)

Always be prepared
You'll appreciate the ease of packing your bag and preparing for the gym the night before.

Update your playlist
Download new music to keep you pumped and in the mood to sweat.

Listen to a new audiobook or podcast
Listening to a good book or podcast can help a workout fly by.

Take photos along the way
You may not think all the hard work is paying off, but wait until you see the photographic evidence!

Reset your taste buds
There are lots of flavors of protein shakes or healthy supplements and snacks that can fuel your energy and have a great impact on your fitness goals.

Stay focused
Remembering why you started working out in the first place is a great way to stay focused and dedicated.

Indulge in the scent of productivity
Essential oils can do wonders, including invigorate, motivate, and help you be more productive.

Be flexible
Some days are busy with work, take a break when you need.

Reward yourself
Relax in a sauna, steam room, or HydroMassage to reward yourself and keep feeling great.

Stay positive
The way you speak to yourself can make all the difference.
Make 2022 a year of good health, happiness, and fitness. Follow these tips to keep you motived, dedicated, and on track to achieving your fitness goals. Dakotah! Sport and Fitness is here to help you along the way!