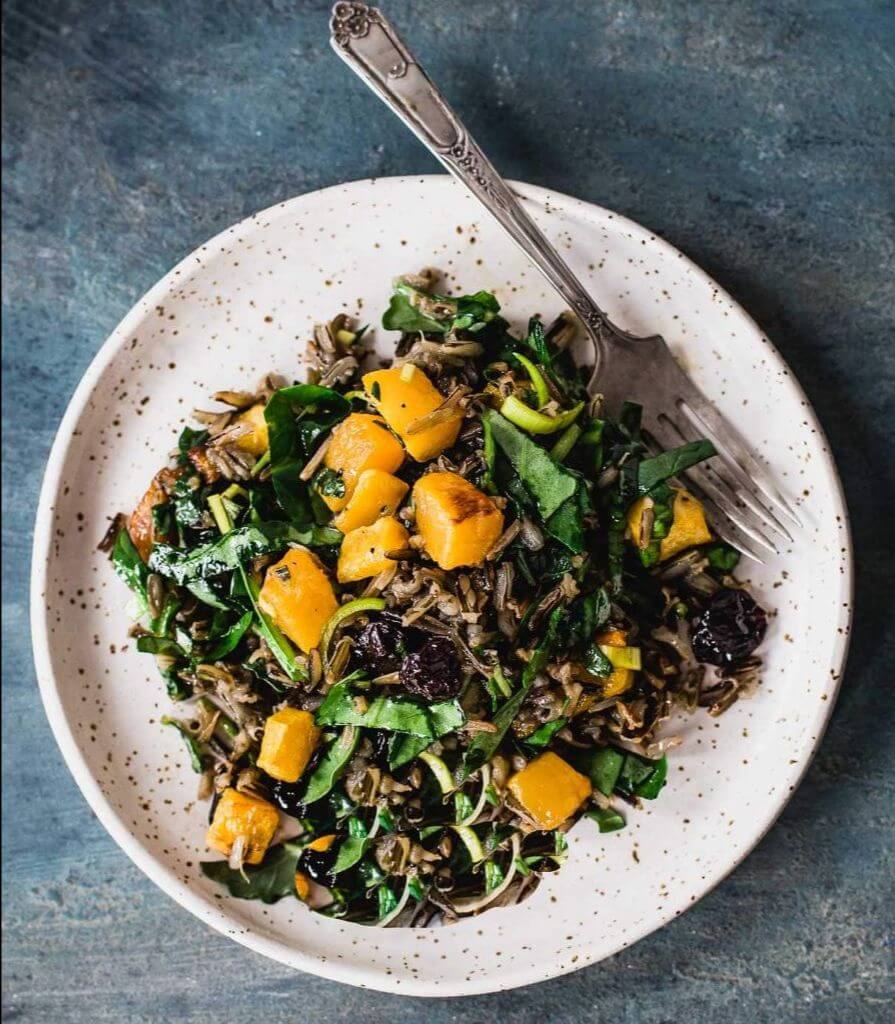 Enjoy this dairy-free salad that celebrates the flavors of fall. Roasted butternut squash, wild rice, and spinach, pair nicely with the aromatic herbs of rosemary and basil. Toss in extra-virgin olive oil, balsamic vinegar, and pure maple syrup, this dish is perfect for a fall family dinner. Optional: add grilled chicken for added protein.
Dressing
¼ cup extra-virgin olive oil or sunflower oil
2 tablespoons pure maple syrup
2 tablespoons balsamic vinegar
½ teaspoon sea salt
½ teaspoon black pepper
½ tablespoon chopped fresh rosemary
1 clove garlic, minced
Salad
2½ cups peeled and diced butternut squash
1½ tablespoons olive oil
sea salt
black pepper
2½ cups thinly sliced spinach
½ cup thinly sliced leeks, both white and green parts
½ cup dried cherries or dried cranberries
¼ cup thinly sliced fresh basil
3 cups cooked wild rice, warmed
Instructions
To make the dressing, add all ingredients to a jar and whisk thoroughly by hand. Set aside.
Preheat oven to 400°F. Toss squash with olive oil, salt, and pepper. Spread onto a baking sheet and roast for about 25 minutes, until fork-tender.
In a large bowl, combine spinach, leeks, cherries, and basil. Stir in warm rice and squash so that spinach wilts slightly.
Stir dressing and add to salad, then toss. Serve at room temperature.