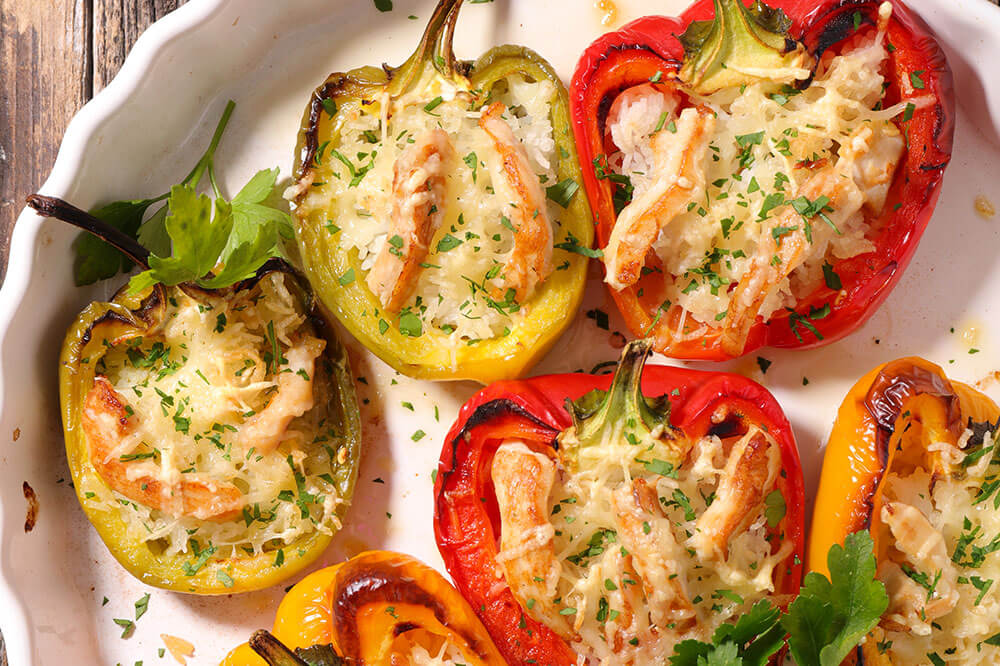 It's tangy, it's spicy, it's buffalo chicken stuffed peppers! Filled with juicy chicken, Gouda cheese, onion, garlic, and more, this low-carb recipe is full of flavor. Is your mouth watering yet?
Ingredients:
4 bell peppers, halved, seeded, and cores removed
1 tablespoon of olive oil
3 tablespoons of butter
½ yellow onion
3 cloves garlic
3 cups shredded rotisserie chicken
½ cup hot sauce
2 cups shredded Gouda
2 tablespoons chopped chives
2 tablespoons ranch dressing
Directions
Preheat the oven to 400 degrees. Place the bell peppers cut side up on a baking sheet. Drizzle the peppers with olive oil and season with salt and pepper.
Melt butter in a large skillet over medium heat. Add the chopped onion and cook until tender and fragrant. Add garlic and cook for one more minute.
Mix in chicken and hot sauce and cook until the mixture comes to a simmer, then remove from heat.
Divide chicken mixture between peppers and top with Gouda. Bake until cheese is melted and peppers are tender, about 20-25 minutes.
Drizzle each pepper with ranch and sprinkle with chives.