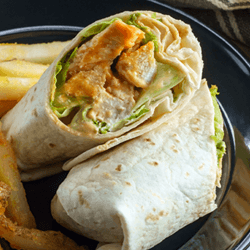 Ingredients:
Chicken breast, cooked and sliced
Barbecue sauce
Hot sauce
Mayonnaise
Sour cream
Blue cheese dressing
Wrap
Slice of onion
Celery, julienned
Prep Night Before:
Combine chicken, barbecue sauce, and hot sauce in large zip-lock bag and seal shut.
Shake until chicken is well-coated and refrigerate overnight.
Mix mayonnaise, sour cream, and blue cheese dressing in a bowl, transfer to a squeeze bottle, and refrigerate overnight.
Next Day:
Warm the marinated chicken, then place it in a warmed wrap.
Layer with onion and celery, drizzle with mayonnaise mixture, and enjoy!