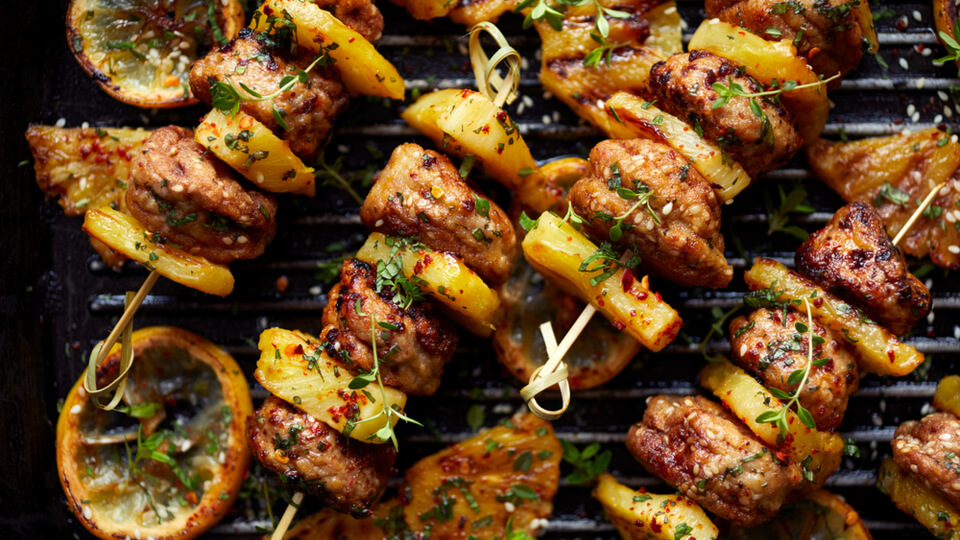 Ingredients:
1/2 teaspoon powdered ginger
1 chicken breast, cubed
1/4 pineapple, sliced and grilled
Bell peppers, to taste preference
1/2 red onion, chopped in 1-inch sections
Homemade teriyaki marinade
1 cup water
1 cup soy sauce
1 cup brown sugar
1 tablespoon garlic, chopped
1 tablespoon Worcestershire sauce
1/2 teaspoon onion powder
Directions - Teriyaki Marinade
Combine all ingredients of the homemade teriyaki marinade in a in a large saucepan and bring to a boil.
Let boil for 3-4 minutes and then remove to cool.
Marinate chicken for a few hours prior to cooking (or overnight for best results).
Directions - Pineapple Chicken Kabobs
After the chicken has marinated for a few hours, thread the chicken onto skewers, alternating with pineapple, bell peppers, and red onion.
Fire up the grill to medium heat and cook each skewer for 8-10 minutes on each side, or until its internal temperature reaches 165 ° F.
Transfer the skewers to a plate and drizzle with the remaining marinade, sprinkle with sesame seeds, and serve with steamed rice.