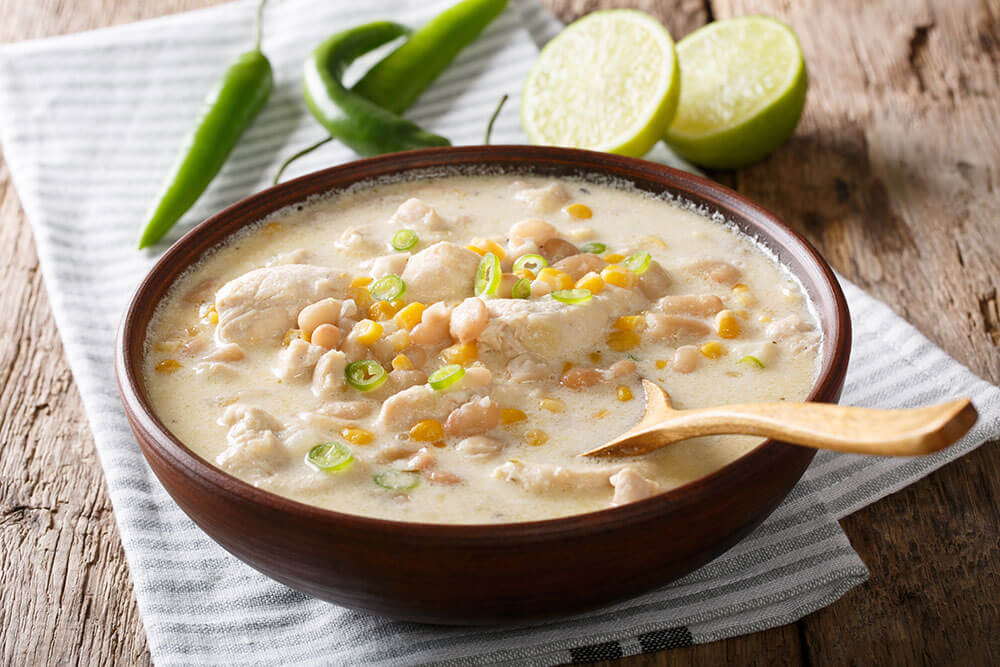 Nothing says fall and cold weather like comfort foods, but that doesn't mean you need to sacrifice your health! Try out this nutritious white chicken chili that's packed with protein and ready in just 45 minutes.
Ingredients:
1 tablespoon light olive oil
1 large onion, finely chopped
1 tablespoon ground cumin
1 teaspoon ground coriander
1 teaspoon chili powder
1 green pepper, seeded and chopped
2 cloves garlic
2 15-ounce cans cannellini beans, drained and rinsed
1 small rotisserie chicken, shredded
1 cup whole corn kernels
4 cups unsalted chicken stock
¼ cup fresh cilantro, chopped
salt and pepper to taste
Instructions
Heat oil in a medium pot (with a lid) on medium-high heat. Add the onion, ground cumin, ground coriander, and chili powder. Cook until onion is translucent, about 4-6 minutes.
Mix in the green pepper and garlic, and sauté for 30 seconds.
Add the beans, shredded chicken, corn, chicken stock, salt, and pepper, and stir until evenly combined.
Put the lid on the pot and bring dish to a boil. Then, turn down the heat to medium and let it simmer for 15-20 minutes, or until it is slightly thickened.
Stir in the chopped cilantro.
Serve with cubed avocado and jalapeños for added flavor!